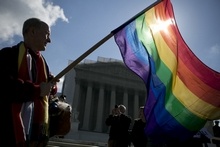 A truly historic and polemic decision was made today on the nature of gay marriage by the United States Supreme Court. The court decided in favour of allowing California to legislate for the resumption of gay marriages and find that the United States government should not discriminate between heterosexual and homosexual couples in the formulation of its laws and policies.
The cases were heard together and the decision was as tightly contested as it could possibly be. The court struck down a piece of federal law which prevented gay couples from claiming social security benefits and other benefits which potentially flow from the federal government. The main reason given for the judgment by the leader of the majority, Justic Kennedy was that the federal government had no basis for interfering with the decision of a state to allow gay marriage. Furthermore, the judge stated that DOMA codified inequality in marriage law which is against some of the implied fundamental protections in the United States Constitution.
Obama has moved quickly in support of the ruling guaranteeing that the power of the administration will be used to ensure that that federal benefits are equalised for same sex as well as heterosexual couples. Furthermore, the law of citizenship will now be reformed because the same sex partnerships will be included in a situation where one parter is a US permanent resident and their partner wishes to apply for the same privileges. The decision stopped short of determining if there is a federal constitutional right to same sex marriage which means that there is likely to be years of litigation on this topic ahead in the state courts where same sex marriage is not legal.
Gay rights activist and groups such as the American Union for Civil Liberties were overjoyed with the decision. However, the decision has obviously angered conservative tea party groups that want to fight the decision at every level. President Barack Obama welcomed the decision. "The laws of our land are catching up to the fundamental truth that millions of Americans hold in our hearts: When all Americans are treated as equal, no matter who they are or whom they love, we are all more free," he said.
Supreme Court Decides In Favour Of Gay Marriage Striking Down DOMA

,