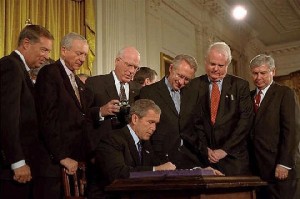 The USA Patriot Act (commonly known as the Patriot Act) is an Act of the U.S. Congress that was signed into law by President George W. Bush on October 26, 2001. The title of the act is a ten letter acronym (USA PATRIOT) that stands for Uniting (and) Strengthening America (by) Providing Appropriate Tools Required (to) Intercept (and) Obstruct Terrorism Act of 2001.
The act, a response to the terrorist attacks of September 11th, dramatically reduced daily freedoms of the American public and restrictions in law enforcement agencies' gathering of intelligence within the United States; expanded the Secretary of the Treasury's authority to regulate financial transactions, particularly those involving foreign individuals and entities; and broadened the discretion of law enforcement and immigration authorities in detaining and deporting immigrants suspected of terrorism-related acts. The act also expanded the definition of terrorism to include domestic terrorism, thus enlarging the number of activities to which the USA PATRIOT Act's expanded law enforcement powers can be applied.
On May 26, 2011, President Barack Obama signed a four-year extension of three key provisions in the USA PATRIOT Act: roving wiretaps, searches of business records (the "library records provision"), and conducting surveillance of "lone wolves" — individuals suspected of terrorist-related activities not linked to terrorist groups.
Download the full text of the Patriot Act here:
The full text in PDF version of The USA Patriot Act.
The act's proponents advocate for the far reaching powers created by the legislation on the basis that it is necessary too protect society from terrorism. However, there has also been substantial criticism of the legislation from civil liberties groups on the basis that it grants powers to the executive branch of government which are so broad that it threatens the individual privacy, freedom and liberties of ordinary people and allows for the creation of a monolithic police state which is the antithesis of what was intended by the constitutional founding fathers and completely at odds with fundamental American political values.
Legal Resources