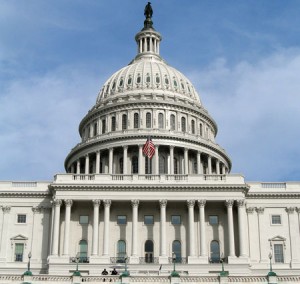 How does federal law work in the United States?
Federal law originates with the Constitution, which gives Congress the power to enact statutes for certain limited purposes like regulating interstate commerce. Nearly all statutes have been codified in the United States Code. Many statutes give executive branch agencies the power to create regulations, which are published in the Federal Register and codified into the Code of Federal Regulations. Regulations generally also carry the force of law under the Chevron doctrine. Many lawsuits turn on the meaning of a federal statute or regulation, and judicial interpretations of such meaning carry legal force under the principle of stare decisis.
Since the start of the 20th century, aggressive interpretations of the Commerce and Spending Clauses of the Constitution have enabled federal law to expand into areas like aviation, telecommunications, railroads, pharmaceuticals, antitrust, and trademarks. In some areas, like aviation and railroads, the federal government has developed a comprehensive scheme that preempts virtually all state law, while in others, like family law, a relatively small number of federal statutes (generally covering interstate and international situations) interacts with a much larger body of state law. In areas like antitrust, trademark, and employment law, there are powerful laws at both the federal and state levels that coexist with each other.
What are the major cases laying out the structure of federal law?
Under the doctrine of Erie Railroad Co. v. Tompkins (1938), there is no general federal common law. Although federal courts can create federal common law in the form of case law, such law must be linked one way or another to the interpretation of a particular federal constitutional provision, statute, or regulation (which in turn was enacted as part of the Constitution or after). Federal courts lack the plenary power possessed by state courts to simply make up law, which the latter are able to do in the absence of constitutional or statutory provisions replacing the common law. Only in a few narrow limited areas, like maritime law, has the Constitution expressly authorized the continuation of English common law at the federal level (meaning that in those areas federal courts can continue to make law as they see fit, subject to the limitations of stare decisis).
The other major implication of the Erie doctrine is that federal courts cannot dictate the content of state law when there is no federal issue (and thus no federal supremacy issue) in a case. When hearing claims under state law pursuant to diversity jurisdiction, federal trial courts must apply the statutory and decisional law of the state in which they sit, as if they were a court of that state, even if they believe that the relevant state law is irrational or just bad public policy. And under Erie, deference is one-way only: state courts are not bound by federal interpretations of state law.
Legal Resources